You're just in the (Saint) Nick of time!
Christmas time is amazing in the Steel City and is certainly one of our favourite times of year.
If you're a student living in Sheffield, you need to make the most of all the things to do from the magical markets to nightclub events to light trails to festive bars.
Find out everything you can do with your pals in our merry guide.
You might as well make some memories before you go home for the holidays, eh?
1. Sheffield Christmas Lights Switch On
You can't kick off the festive celebrations without going to the Sheffield Christmas Lights Switch On.
Luckily for you, there's only a few days to go until the streets of Sheffield City Centre become illuminated on the 20th November.
You can expect magical coloured lights, special guests, fireworks, plenty of street entertainment, Christmas carol singing as well as fairground rides at The Big Light Switch On.
The best part is, the annual light switch on is free so you don't have to spend a penny and you can still enjoy the festive atmosphere and get together with your housemates.
The event is taking place at Barkers Pool and Town Hall Square with a dual switch on.
It will start at 2:00pm and finish at 6:30pm with the lights being turned on at 6:00pm.
After you've taken in the magical views and captured the ultimate TikTok video, head to the Christmas Market for a mulled wine.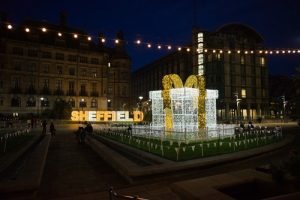 2. Sheffield Christmas Market
There really is nothing quite like the Sheffield Christmas Markets.
Opening from the 18th November you haven't got long to go until the winter wonderland opens.
Take a wander around the traditional wooden chalets with your pals and explore over 50 independent traders offering some Christmas goodies.
There's tons of Christmas shopping opportunities to grab a unique gift for your loved ones.
If you're keen for some festive treats you can nom down on Yorkshire pudding wraps, chimney cake, churros and crepes to name a few.
There's even a traditional German sausage grill if you want to scran a bratwurst – yes please!
You'll find the markets along Fargate, into the Peace Gardens and on The Moor.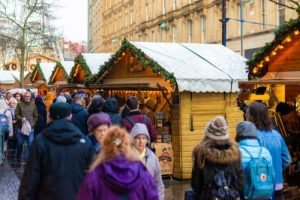 3. Alpine Bars
Is there anything better than getting together with your friends and heading to a Christmas Bar for a few drinks? We don't think so!
Whilst studying in the city you have loaaads of places to choose from to grab a few tipples for the festive season.
The Alpine Lodge is yet again returning to the city centre with two floors of drink experiences to be had at the Peace Gardens.
You can soak up the Christmas cheer and sip on alpine-themed drinks including beers, hot spiced cider, bailey's hot chocolate and tons more.
The Alpine Bar is also returning for the annual celebrations but with a new location on The Moor rather than it's usual location on Fargate.
You can expect a similar atmosphere of live music, a selection of delicious drinks and good vibes.
Both bars are open from 10am until 10pm so you'll have plenty of opportunity to have some Christmas fun.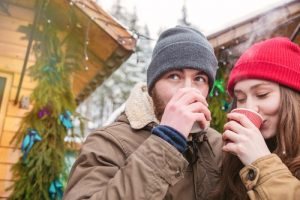 4. The Big Wheel
The iconic Big Wheel is an absolute staple of Christmas time in Sheffield, with stunning views across the city centre.
If you're brave enough, take to the sky and ride the funfair wheel with your pals.
You can't miss it really, but you'll find it located at the site of Sheffield Christmas Markets.
You'll certainty get some Insta-worthy pics from the top of the colorful wheel.
Once you get over the height, it's quite relaxing to just sit and take in the sights of the city.
Just remember to wrap up warm as it does get super chilly!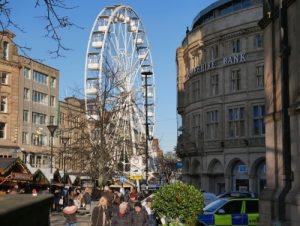 5. Sheffield's Craft & Flea
If you're on the hunt for somewhere to grab some wonderful gifts for family or friends for Christmas, you need to head to Craft & Flea.
Taking place at Sheffield Cathedral on the 19th November from 11:00am until 17:00pm, you can explore the very best of independent traders.
There will be over 50 flea market stalls offering a variety of different items like jewellery, sweet treats, vintage items, illustrations, plants, candles and tasty street food to name a few.
If you've already mooched around the high street in search of present ideas, then head here and see if you can find anything good.
You do need to pay an entry fee of £2.50 to go to the markets, but you can pay when you arrive.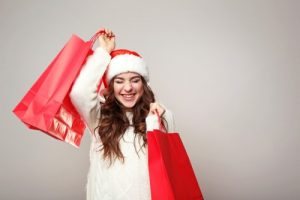 6. Sheffield Cathedral Illuminated: The Manger
Next up on our guide of things to do in Sheffield for Christmas is the light illumination show at Sheffield Cathedral.
Sheffield Cathedral Illuminated: The Manger event is running for 6 nights from Tuesday 29th November until Sunday 4th December with a 5:30pm start time
This award-winning show is one of the best festive traditions in the city and takes inspiration from the first Christmas.
Walk around and discover the lit up interior of the Cathedral with displays of lights and projections as well as Christmas music.
Plus, there will even be some wine and mince pies available.
Tickets are required for this event, but they're only £6.50 so you don't need to splash the cash.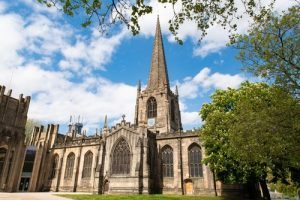 7. The ABBA Christmas Party
The ABBA Christmas Party at Kettle Black is the get together of dreams for you and your mates.
This Christmas event is taking place on the 3rd December from 2:00pm until 6:00pm so if you love a day sesh, you'll enjoy this one.
You can party the day away, boogie along to DJ's spinning ABBA classics and knock back Christmas-themed cocktails.
Dressing up is widely encouraged too with Disco Santa vibes being the motto!
First release tickets are £15, we recommend grabbing yours ASAP if you want to go.
8. Christmas Carnival
The annual festive get down is back with Applebum's Christmas Carnival.
As a student in Sheff, it would be silly to miss out on this Christmas event.
You can expect throwback hits, new school sounds and hip hop tunes at Tank Nightclub on the 8th December.
We're sure there will be some Christmas hits thrown into the mix as well!
This is the last Applebum event of the year, so bring in the Christmas spirit and let this semester go out with a bang!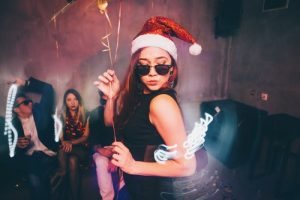 9. Christmas Club Tropicana
IT'S CHRISTMASSS at Club Tropicana.
If you're wanting to groove your heart out to some 80s pop and disco anthems as well as some banging Xmas tunes, then head to the Christmas Club event.
Whilst it probably won't snow down on Sheffield, it'll be snowing at this nightclub with their legendary snow machine.
You can dress up in your best Santa suit and enjoy some Christmas cocktails and boozy beach buckets – wooo!
Grab your elves and say goodbye to the end of term on the 13th December.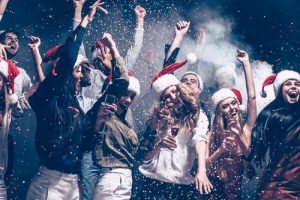 10. The Muppet Christmas Carol
If you're a fan of The Muppet Christmas Carol film then why not go and see it live in Sheffield this Christmas?
You can watch The Muppets perform the iconic Charles Dickens tale with a live orchestra at Sheffield City Hall.
This would make a cute date idea or a nice evening out with your mates, with the event taking place on the 5th December with a twist on the classic Disney film.
Tickets are on the pricier side but it's worth it if you're on the hunt for something unique to do for the Winter holidays!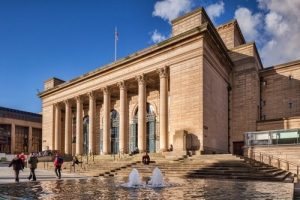 There we have it everyone, the end of our merry guide to everything you can get up to for Christmas in Sheffield.
Don't forget, you can have all sorts of fun in your student house from cooking a dinner together, exchanging Secret Santa gifts, having a Christmas movie marathon and making some delicious Christmas bakes!
Are you searching for a student house in Sheffield? Take a look at our properties today.