Winter is fast approaching, and it's that time of year when we're all feeling the cold a little bit more.
With Christmas on the horizon and the current cost-of-living-crisis it's never been more important to try and save money on heating bills.
Are you and your housemates getting into a tiff about putting the heating on?
We bet there's some slightly passive aggressive messages in the group chat about not touching the thermostat and putting on some extra layers.
Here at UKSH, we've put together a money saving guide with tips to help you out with keeping your house warm, and to stay on good terms with your housemates!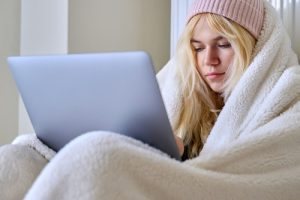 1. Understand How Your Heating Works
For many students, understanding how their central heating system works is something that becomes confusing, and we don't blame you.
Our first tip for saving money on heating your house is to make sure you know how your thermostat works properly.
Sure, button pressing is easier and if ends up making the house warmer then great, but everyone should understand how to control their central heating thermostat.
So that you can heat up your home effectively and save money on bills.
If you're wondering how a thermostat actually works, in short, it's a device connected to your central heating system which you can use to quickly and easily control your homes temperature.
The way it works is if the temperature drops below your chosen ideal temperature, it will then switch the heating on to warm your house up.
There are tons of different central heating systems from traditional temperature dials to smart thermostats.
If you're unsure how to properly use the model within your student home, it's best to speak to your landlord or estate agents.
2. Only Put The Heating On When You Need It
Some people state that leaving your heating on low all day is the best way to save money on bills.
However, research suggests this is not the case as it wastes energy and pennies.
Instead, only pop your heating on only when you really need it for the ultimate money saving technique.
You can do this by putting your thermostat on a timer.
Most thermostats do have timers, which you can use to control when your heating comes on at certain times of the day.
Such as, when all your housemates are in the house of an evening.
Not only will you save money on bills by putting your heating on a timer, but you'll also reduce your carbon footprint so it's a winner really!
3. Keep Doors Shut
Our next money-saving tip to keep your house warm is to ensure that you keep the doors shut in your home.
We know, you may want to be more sociable with your housemates when you're all chilling in your own rooms.
However, keeping doors closed will keep the heat inside your room rather than letting the heat escape to the rest of the house.
This will mean your bedroom is toastier and you'll save some money on energy bills too, rather than feeling the cold and having to run down to put the heating on again!
4. Wrap Up Warm
This heating tip gets thrown about so often that it's kind of jarring, but it's something we need to include within our guide, if you're somehow not already aware!
So, a simple way to save money on your house heating is to not put it on at all and instead wrap up warm with extra layers.
Get some winter essentials whether it's fluffy socks, your favourite pyjamas, a hoodie and a hot water bottle.
You could even ask for an oodie for Christmas if you haven't got one already, they're super cosy and they'll keep you warm during the winter months.
Wearing tons of layers isn't the most ideal thing, especially if you're getting ready for a night out or trying to do study, but it will help you reduce that heating bill.
5. Have A House Discussion
Our next tip for heating up your student home is slightly unusual, but it's important.
We suggest having a discussion with your housemates about the heating to ensure everyone's on the same page with it.
As we said earlier, arguments over heating can quickly arise within a student home. It's something that is bound to happen in every shared home!
Like when one housemate keeps whacking the heating up whilst another is opting for it to be off – awkwaaaard.
There's nothing wrong with putting the heating on sometimes if you're super cold, especially at night-time.
However, if someone is consistently whacking up the thermostat, you should start to think about whether they should pay more for bills if they keep adjusting the central heating.
We'd suggest meeting in the middle the best you can when it comes to heating your student house.
So, rather than saying the heating shouldn't be on at all and people should wear extra layers, have it on a timer so the house gets heated up at certain times.
Compromising is key in situations like this!
6. Make The Most Of Hot Drinks
Next up within our money saving guide for heating up your student home is to make the most of hot drinks during the colder months.
If you're feeling the cold in your gaff, why not make a nice hot chocolate, tea or coffee?
Sure, making a warm brew isn't the same as being nice and snug with the heating on, but it'll save you money on heating and they're super tasty.
This is a great idea for the days you're not in uni and can't bring yourself to pop the heating on before the evening.
Curl up on the couch with your housemates with some hot drinks and watch some festive films!
Or, head to your local Starbucks or Costa and get your faaaave hot drink. Moving about also keeps you warm!
7. Close The Curtains
A further tip for saving money to keep your home warm is to shut your curtains.
Studies suggest that closing your curtains at night can reduce heat loss by up to 17% due to heat escaping through your windows.
To be fair, who doesn't close their curtains when it's dark outside?
Although, you should keep your curtains open during the day as natural sunlight can heat up your home.
Just be careful about who can see into your home and what belongings are on show!
If you have particularly draughty windows which let in breezes, it might be worth talking to your landlord or estate agents about this issue.
8. Go Somewhere Warm
Our last money-saving tip for your heating bills during the winter season is to go elsewhere rather than spending too much time at home.
You're a student after all, make the most of your university facilities whether it's the library, Students Union, or even the campus pub during the colder months.
This way you can stay nice and warm without whacking up your energy consumption and you'll save more pennies!
Taking on board our tips will help you reduce your heating bill for the colder months.
So, you can stretch your student budget further and have more money for Christmas presents and end of term drinks – woop!
The best part is, when you choose to stay in our UK Student Houses, we offer all-inclusive pricing meaning all utilities are included in your rent payment.
So, you don't need to worry about house heating bills!
Check out our properties today to find your ideal student home.
Are you feeling lonely at uni? Take a read of our guide on 10 Tips And Tricks To Help You Out.