House viewings can be an exciting process for university students as you're on the hunt for a new home to live with your friends, have more freedom and make great memories, but it can be equally as daunting.
It's likely the first time you'll be renting a home, so it can be hard to know what things to look out for and what questions to ask.
Luckily, here at UK StudentHouses we're experts on knowing what to look for when viewing houses. With our help you can guarantee you'll find a property which fits your criteria and have an amazing student experience.
Carry on reading for our top tips on viewing houses for students!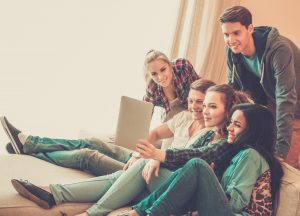 Tips On Viewing Student Houses
We know how stressful house hunting can be whilst at university, so we've put together these 12 top tips to ensure you're prepared for viewings and know which questions to ask.
Before we get started, we cannot stress this enough, ALWAYS go to a viewing before signing for any student house.
No matter how time consuming it can be, you don't want to sign to live somewhere you've not even seen in person!
1. Establish Your Budget
First things first, before you've even begun viewing any houses, you need to establish your budget and discuss this with your potential housemates.
There's no point going to house viewing after house viewing and then stating you can't afford to pay the rent.
So, state how much money you're willing to pay and view houses that are within this budget.
If your housemates are willing to pay more for a student house, you may have to think about whether you're willing to go over your budget or not.
If you're not, it may be time to think about looking for other housemates.
You should also account for other extra charges when viewing student houses, like contents insurance so you're covered in the event of loss, theft or damage.
2. Ask About Bills
Another crucial thing to remember when viewing student houses is to ask about utility bills, as they may not be included within the rent payment.
You might think you've found the dream student house with cheap rent, but it may be that you haven't accounted for bills on top of this.
We cannot stress this enough, always ask whether bills are included when viewing houses.
If they aren't included, make sure to ask the current tenants how much they're paying for gas, electricity, water, broadband and TV licence to get a rough idea.
You should also check if the house is well-insulated as if it's not, this could rack your energy bills up.
3. Don't Rush
Our next tip for viewing houses whilst at uni is to ensure you take your time and don't rush the process.
We know it can feel stressful when everyone's signing for houses, but as long as you haven't left it until the very minute there's no need to panic.
It's like dating, take your time and date a few people to see who's a right fit!
You need to think about what your ideal student house would be like and have a think about what the criteria is.
After all, this is going to be a place that you call home for the next 12 months.
Even if you do find an amazing house at your first viewing, it's always best to view around other places and do a comparison, you might find an even better house the next time.
Don't rush house viewings either (even if the landlord is trying to), dedicate at least half an hour of your time to take a good look around.
So, you can get a good feel for the place and see if it's right for you, and your housemates.
4. View The Property More Than Once
Once you've viewed a few houses and are trying to nail down which one to sign for, we'd recommend viewing the property again before signing the contract.
You might have a completely different experience the next time you view or realise it's actually not a good fit.
We'd suggest always making sure that you and your housemates all view the properties together to get everyone's opinions.
If not everyone can attend viewings, you could ask for permission to take photo's and videos to show your housemates and get a second opinion.
5. Speak To The Current Tenants
One of the most important things to remember when viewing a house is to speak to the current tenants if you're able to, although it's not always possible for various reasons.
If you are able to have a chat with the current tenants, ask them a few questions about what their experience has been like and if they've encountered any problems.
At the end of the day, estate agents and landlords are trying to get people to rent their properties so of course they're going to make it sound great.
So, make sure to find out what the actual tenants' opinions of the home are as well as their experience with this student housing provider.
We'd hope it would be a positive one but who knows!
6. Think About The Property Location
When viewing a property, you should think about the location it's in, as not only does it impact the rental price, but it can also be a make or break for student life.
You should think about the ideal area you want to live in within your city or town.
Are you wanting to live in a loud student area, or somewhere a bit quieter?
You should also think about the distance to campus as well as other local amenities like shops, restaurants, bars and so on.
What determines a good location is really up to you, one location may be amazing to one person and a nightmare place to live for another, it's all down to personal preference.
You don't want to find your ideal student home but then realise it's an hour walk to campus and there's no buses nearby, so always do a quick check using Google Maps!
7. Check Property Security
Our next tip for viewing student houses is to check that there's proper security features within the interior and exterior of the property.
Unfortunately, student houses don't have the best reputation when it comes to being secure and are often targeted by thieves.
Whilst we're not suggesting this happens in every student house, it's important to make safety a priority when signing for any student house.
You should check that there's suitable locks on the exterior doors of the property, there's a working security alarm as well as locks on the bedroom doors and windows.
If you have any questions about the safety of the property, make sure to ask the landlord or estate agents and if you do notice any issues, ask for them to be sorted out before you sign!
8. Ask When The Deposit Has To Be Paid
When renting a student property, many housing providers will require you to pay a tenancy deposit, which can vary in price but is normally around one month's rent.
A tenancy deposit is paid to the housing provider and is held as security in case of missing rent payments, property damage or required cleaning when your tenancy ends.
You should get your deposit back if you've met all the terms in your tenancy agreement upon moving out.
Although, you should always check that your deposit is placed in the protection scheme within 30 days of moving into your new home to ensure that your deposit is safely protected.
When viewing student houses, it's always good to ask when the deposit has to be paid during the signing process and how much it is so you can afford to pay when the time comes.
You also need to ensure you have a guarantor as many housing providers require you to have one in order to rent the home, this is in case of any missing rent payments.
9.  Check For Signs Of Mould
Our next tip for viewing houses as a student is to check for signs of damp or mould, unfortunately not every student house will be up to standard, especially older properties.
Research suggests that 26% of students are living in a home with damp so, it's important to be aware of the signs of damp within a student home.
Some of the signs include steam-upped windows and puddles on the window sills, as well as damp flaky wallpaper or a musky smell.
It's also worth noting you should look for signs of rodents within the property too, you don't want to move in and be faced with some unwanted visitors!
10. Explore Outdoor Space
Next on our property viewing checklist, we'd also suggest exploring the outdoor space as well as indoors.
Not every property will have a good garden space so if that's a make or break for you, be sure to head outdoors and assess the space.
Whilst you're outside, you could also check the external features of the property too to make sure they're up to standard.
If there isn't a good outdoor space you could check to see if there's any parks nearby, at least then you'll have a nice place to relax in summer with your mates!
11. Ask What Appliances Are Included
Whilst viewing student houses, you should ask what appliances are included within the property.
It's important to see what appliances are included, you might see a brand spanking new coffee machine in the kitchen, but this could belong to the current tenants and not be part of the house inventory.
If you're someone who solely relies on a dishwasher to do your dishes or a dryer to dry your clothes, then you'll want to check the property includes them.
So, always double check what's actually included before you sign away!
12.  Do A Fire Safety Check
Last but not least within our post on house viewing tips is to carry out a fire safety check.
It's so important to check whether your potential student home has working smoke and carbon monoxide detectors, as well as fire extinguishers and fire blankets.
Checking for adequate fire safety measures is vital, as those living in shared accommodation are seven times more likely to experience a fire – it's better to be safe!
When viewing houses remember to ask lots of questions and be prepared with these top tips. This way, you'll know whether or not a student house is a good fit for you and your housemates.
We wish you the best in house hunting for the next academic year!
Here at UK StudentHouses we provide student houses in prime locations across the UK, check out our properties today.
Read next: Top 10 Tips On How To Keep Your House Warm In Winter.