The weather has certainly gotten chilly this winter, hasn't it? Let's face it, no one wants their house to be freezing cold, you want it to be a safe haven from the weather outdoors.
It's even worse when you've got studying and parties to focus on within your student house!
With the severe weather warnings across the UK at the minute, you're bound to be fed up with your house being cold, which is why we've put together these top 10 tips below.
Carry on reading to find out how to keep your house warm in winter…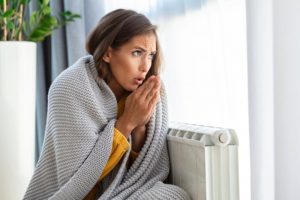 1. Buy A Rug
Rugs aren't just to make your living room look pretty, you know, they're great to keep your house warm in winter.
Rugs provide more warmth and reduce the temperature lost through the floor, plus they're super cosy so they'll keep your feet toasty when you're watching telly.
We're not saying you need to go all out, but why not shop for a quality thick rug for your student house?
You can split the cost with your housemates if it's going in a communal space, and they come in all different colours and styles to jazz up your home.
2. Shut Curtains & Blinds
If you're wanting to keep your house warm then make sure to close your curtains or blinds, as research suggests that around 18% of the total heat is lost through the windows of your home.
When it starts getting dark outside or you're heading out and about, shut your curtains or blinds in your student house to keep the heat where it should be, inside!
Not only is this a great way to stop heat from escaping from your home, but it's also good to keep your curtains and blinds shut to prevent people from seeing in – uh, thieves.
Thermal curtains are even better to keep your house warm in winter and cool in summer.
3. Give Radiators Space
Many houses have furniture blocking their radiators, and whilst it might feel good to have your couch or bed propped up against it for that extra warmth, this will actually absorb the heat and prevent it from spreading to the rest of your home.
There should be at least a foot between any furniture and your radiators, otherwise this can have an impact on how efficient your heating is.
Placing furniture directly against radiators can even cause damage to the items over time, and in some cases can be a fire risk – it's not worth it really!
You should also ensure that your curtains don't hang over your radiators either, whilst they should be long enough to cover your windows, make sure they're not covering any radiators as this can cause heat loss.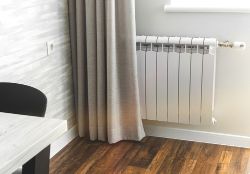 4. Boost Your Radiators With Aluminum Foil
Our next tip on how to keep your house warm in winter is to boost your radiators with aluminum foil.
You might be thinking what on earth does this do?
Well, the reason for this is that the foil reflects the heat that would otherwise be lost through the walls which means there will be more heat spreading around your student home.
Simply get some aluminum foil and place it down the side of your radiators to bounce the heat back into your living spaces rather than escaping through the walls of your home.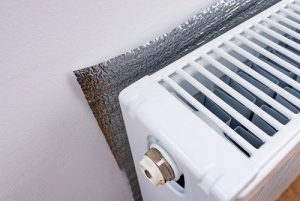 5. Bleed Your Radiators
Another radiator hack to reduce heat loss? Yep it sure is, talk about staying on topic!
We know, it's one more thing to do in your student house and it requires some effort to do so, but doing this will help keep your house warm AND can also help reduce your energy bills – win, win!
So what does it mean to bleed your radiators?
Well, it's a process of removing any excess trapped air within the system which can impact how much air is put out.
Don't worry, there are a few simple steps in order to bleed your radiators which we've listed below.
To do this, you'll need a radiator valve key, if you don't have one, speak to your student housing provider.
Step 1 – Make sure to turn off your heating as otherwise the radiator can be too hot to touch or you could get water spraying out. You should also allow time for your radiator to cool down.
Step 2- Find the radiator bleed valve and ensure that a cloth, towel or jug is placed below to catch any of the water.
Step 3- Get your bleed key and turn it anti-clockwise slowly, you should hear a hissing sound from the air escaping from the radiator.
Step 4- Once the water has come out, you should close the valve by turning the key clockwise.
Step 5- Put your heating back on and check that your radiators are heating up properly.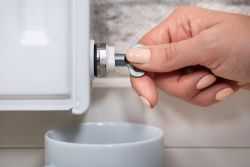 6. Check For Draughts
Another trick to keep your house warm in winter is to check for draughts.
Unsure if there's draughts in your student home? Feel around for a breeze which can come from different sources in your home whether it's in your windows, doors, floorboards, beams or skirting boards.
If you feel air coming through or if you hear rattling or whistling noises then you will have a draught.
Draughts are especially common in older houses!
If you do notice any draughts in your student house, make sure to speak to your landlord or estate agents so that they can make your home draught proof.
Whilst it may be tempting to try and cover the draughts yourself and block unwanted gips, it's the job of your housing provider to do this – leave it to the professionals as we say!
7. Automate Your Thermostat
If you're fed up with your student house being cold then keep things warm by smartening up your heating.
If you have a smart thermostat within your student home (you're lucky if you do!) then use it to make sure your heating is on so you're nice and cosy when you get home from uni, or when you've got back in the evening after being out!
This way, you won't have to wait for your home to heat up once you've propped the heating on, and you can control what time it goes on and goes off as well as the desired temperature.
This means you'll be nice and toasty when you wake up for lectures in the morning and you're not wasting energy which = less bills for you.
We love a cost-effective hack to stay warm in winter, don't you?
8. Use Your Oven
Once you've grabbed your pizza out of the oven, don't just close it, keep your oven door open and use it as a heat source to warm up your student house.
The heat from the oven will transfer into the rest of the room so you don't need to whack your heating up if you're fed up of feeling chilly.
Dinner time will be nice and toasty with this tip (no pun intended).
Of course, this tip should only be tried out if you have an electric oven within your home as if you have a gas oven doing this can release harmful carbon monoxide.
9. Make The Most Of Shower Steam
We all love a nice hot shower or bath when it's cold outside, but what you may not have realised is that you can actually use the shower steam to heat inside your home.
As you know, hot showers make the room fill up with steam which then produces heat, instead of letting this heat escape by opening up a window, let it heat up your living space!
Forget about your central heating, use the shower to reduce heating costs.
Shower steam is also great if you've fallen victim to a cold this winter, as it can open up your nasal passages and reduce your symptoms.
10. Use An Electric Blanket
Okay so technically this final tip is how to keep yourself warm, rather than your home but it's still worth a mention if you ask us.
If you haven't got one an electric blanket, invest in one to increase your body heat, they're available to buy on tons of online sites.
They're perfect for the cold weather and you can use them for your bed or couch when the temperature beings to drop – right about now!
Whilst they won't heat up the whole room these blankets are great for keeping yourself nice and snug, you'll also be saving money on your central heating too.
We should warn you though, once you start using one you'll never stop as they make a big difference!
So there we go, now you can keep your home nice and warm this winter.
There are other ways you can keep yourself warm this winter season such as by using electric blankets or a hot water bottle, don't forget the fluffy socks!
We hope that you're nice and cosy within your student house with our top tips – don't forget to try them out.
UKStudent Houses
Are you looking for your ideal student house? Here at UKStudent Houses we provide hassle-free student living, with all inclusive bills so you don't need to worry about how to keep your house warm or how to budget – we do all of it for you!
Our helpful teams are there to help with any queries you may have, check out our properties in first class locations today.
Are you having issues with your student house? Take a read of our blog on How To Deal With A Difficult Landlord At Uni | Our Top Tips.