Halloween is coming up fast, and we don't know about you but we're unsure how it's October already, right?  
If anything is going to get you in the spooky mood in time for the 31st, it's whacking on a film and chilling with some popcorn (and maybe a pumpkin latte) in your student house!  
Hence why we've put together this list of the Top 10 Halloween Films For 2022, carry on reading to get the excitement and fear flowing.  
There's a movie to suit every Halloween lover from adrenaline pumping thrillers to feel good comedies to ghostly horrors, get your favourite streaming platform on cos' this list is one to be enjoyed.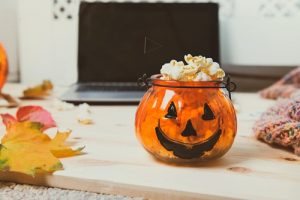 Hocus Pocus 2
Imagine talking about Halloween films to watch in 2022 and not mentioning the iconic live-action-comedy sequel to the 1993 cult classic, Hocus Pocus. It couldn't be us!  
The holidays simply wouldn't be complete without watching Hocus Pocus 2.  
This is no ordinary re-boot, as it features the return of original actors of Kathy Najimy (Mary), Bette Milder (Winifred), and Sarah Jessica Parker (Sarah) as they reprise their roles as the Sanderson Sisters for the first time in 29 years, but this time they're in modern day Salem.  
You'll get a taste of nostalgia to your childhood within this film, which tells the tale of three young high schoolers who accidentally bring back the 17th century Sanderson Sisters, whilst they try to figure out how to stop the child-hungry witches from causing mayhem.  
This is an absolute Disney Halloween classic, watch the trailer below.  
Available to watch on: Disney+  
The Curse Of Bridge Hallow 
Next on our list of Halloween films is The Curse of Bridge Hallow, a feel-good adventure comedy.  
If you liked Priah Ferguson in the latest season of Stranger Things, then we're sure you'll love her as Syndey within this must-watch film.  
The cast includes some other big names including, Marlon Wayans, Kelly Rowlands and Lauren Lapkus.  
It tells the story of a father and his teenage daughter who team up after discovering their house has a haunting history.  
The father-daughter duo must come together after an ancient and mischievous spirit causes Halloween decorations to come to life.  
Whilst the crowd-pleasing film is not yet released, it's available on Netflix from the 14th so you'll have plenty of time to get the Halloween vibes flowing.  
Take a watch of the trailer to see what it's all about!  
Available to watch on: Netflix  
Mr Harrigan's Phone 
New for October is Mr Harrigan's Phone, a film adaptation of the Stephen King novel of the same name. Although, it does have some slight differences from the book.  
The plot of the film focuses on a young boy named Craig (played by Jaeden Martell) living in a small American town, who gets a job working for billionaire Mr. Harrigan (played by Donald Sutherland).  
Upon spending some time together and befriending one another, Craig buys Mr. Harrigan the first iPhone. However, when Mr. Harrigan dies, Craig receives a phone call from Mr. Harrigan beyond the grave.  
It's up to you to find out what else happens in this teen horror drama, have a sneak peak of the trailer now! 
Available to watch on: Netflix  
The School Of Good and Evil 
Based on the bestselling book series by Soman Chainani, is The School Of Good and Evil, an upcoming fantasy film coming to your screen in October – an ideal watch for Halloween 2022! 
The film tells the tale of two best friends, Sophie and Agatha whose friendship is put to the test when they're taken away to an enchanted school for future heroes and villains.  
The pair discover who they really are and find themselves on opposite sides of an epic battle of good and evil.  
The question is, are you good, or are you evil? Find out which team you will choose in this must-see film with a stellar cast with names like Sophia Anne Caruso, Sofia Wylie and Charlize Theron to name a few.  
For us, the trailers giving similar vibes to the Alice in Wonderland films, and we kind of love it.
Give it a watch for yourself once it's released on Netflix on October 14th!  
Available to watch on: Netflix 
NOPE 
If thriller films provide you with some strange comfort, then NOPE is a must watch this Halloween 2022.  
We'd be surprised if you haven't heard about this sci-fi horror film already, as it's all everyone's talking about, or at least those who love being on the edge of their seat.  
What is it about you may be wondering? This modern horror film by Jordan Peele is unlike anything you will have seen before.
The original plot focuses on the residents of an isolated horse ranch in California, who witness a sinister discovery in the skies above.  
The owner of a nearby theme park tries to profit from the out of this world phenomenon, and well, the rest is up to you to find out. The amazing cast includes Daniel Kaluuya, Keke Palmer and Steven Yeun as the films central characters.  
This jaw dropping film is one you have to really focus on to understand. See what it's all about in the trailer below…  
Available to watch on: Amazon Prime Video  
The Invitation 
The Invitation is a brand-new horror film for 2022, which is Inspired by Bram Stoker's Dracula.  
Game of Thrones fans will be happy to know that Nathalie Emmanuel who was a much-loved actor on the show, plays the films main character. If this wasn't enough to entice you into watching, we're sure the gripping plot will.  
The movie follows a young woman who, following her mother's death, heads to the English countryside to meet her long-lost family members for the first time at a wedding, only to find out some twisted secrets about her new relatives.  
This film provides a new approach to the iconic vampire tale of Dracula and is well worth curling up on the couch and watching with your flatmates. Just remember to remind yourself that it's fiction!  
Find out more by watching the trailer.  
Available to watch on: Apple TV 
My Best Friend's Exorcism 
Another film to watch for Halloween 2022, is My Best Friend's Exorcism a light-comedy horror film based on the book of the same name by Grady Hendrix.  
Set in the late 80s, the coming-of-age film follows two best friends Abby and Gretchen as they navigate through teenage life of boys, pop culture and a powerful friendship, despite coming from different backgrounds.  
The friends go on a trip to a lake house for the weekend where they go skinny-dipping and play a game of the Ouija board. Things take a turn for the worst when Abby and Gretchen visit a haunted mansion, and Gretch becomes possessed.  
What will happen next? We won't spoil this for you, watch the trailer or jump straight into streaming on Amazon Prime Video.  
Don't worry, this film is a comedy, so you won't be having any nightmares, just a few giggles! 
Available to watch on: Amazon Prime Video  
Bodies Bodies Bodies 
Bodies Bodies Bodies is a must-see horror comedy for students to watch this Halloween 2022.  
The impeccable cast within the film include Amandla Stenberg, Pete Davidson, Maria Bakalova, Rachel Sennott amongst others who play a group of rich 20-something young adults who get trapped at a remote mansion during a hurricane.  
Tensions begin to rise with old fallings out coming to the surface, but things become much darker during a round of murder-in-the-dark-game 'Bodies Bodies Bodies'.  
When a dead body turns up on the ground, things turn deadly as the group try and find the killer among them. Who could it be? Find out everything by pressing play on this new movie on Apple TV. 
Available to watch on: Apple TV 
The Black Phone 
If you really want to be frightened this Halloween 2022, then The Black Phone is a top choice.  
This coming-of-age supernatural horror film explores the story of a shy but clever 13-year-old Finney Shaw who is adducted by a masked killer (played by Ethan Hawke) and kept in a soundproof basement. 
Things start to get hopeful when a disconnected phone on the wall starts to ring. Although, Finney soon discovers that he can hear the voices of the murderer's previous victims, who are set on providing hints to escape to ensure what happened to them doesn't happen to him.  
Will he escape and get back to his family? Or will he fall victim to this horrific child killer? The suspense is prominent throughout the jump scare scenes!  
Prepare to be gritting your teeth and be filled with adrenaline with this new entry from Scott Derrickson.  
Available to watch on: Amazon Prime Video  
Morbius 
Despite being released back in April, Morbius is a great watch for Halloween 2022 if you're a fan of superheroes, or anti-heroes.  
Forget trick-or-treating, your night will be complete with this Sony film which follows the tale of Michael Morbius who has a rare blood disease which has plagued him all his life.  
Until one day he conducts an experiment in an attempt to stop others from suffering the same fate, although the consequences are vampirism with super strength powers and a first for blood.  
This superhero horror film provides something different to what we've discussed so far and features some great named actors including Jared Leto, Matt Smith, Adria Arjona and Jared Harris.  
Add it your watch list and get your heart pumping!  
Available to watch on: Amazon Prime Video  
We've certainly given 'em pumpkin to talk about with our list of the top 10 films to watch for Halloween 2022! 
So, now all that's left to do is to turn on your TV or laptop and get streaming. Why not organise a movie night with your flatmates with some tasty treats and have some much-needed downtime during this fang-tastic season?!  
Are you bored in your student house? Have a read of our blog on What To Do To Shake Things Up.