Are you a vegan on the hunt for the best vegan restaurants in Warwick? Or someone who's wanting to try out a plant based diet?
Not to worry, whatever the reason you're looking for vegan restaurants in Warwick, our guide of the most delicious places will sort you out.
There's an abundance of places to eat vegan scran in this town, and with our help you'll find your regular foodie haven in no time.
Let's not keep you foodies waitin' here's our list of the 8 best restaurants…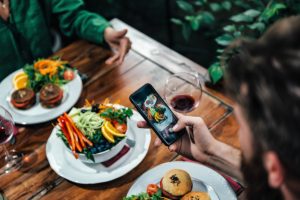 1. Jambavan
We'll be honest, there aren't many exclusively vegan restaurants in this town but one of our favourite places offering up a huge variety of delicious plant based foods is Jambavan.
Situated a few minutes walk from Warwick Castle, you can't ask for a more central place to eat if you ask us.
Their palate-provoking menu has tons of authentic Indian dishes that are none other than mouth watering, with dishes such as onion bhajis, bengal potato and peas samosas as well as tarka dhal.
If you don't want to take our word for it, this eatery is voted number 1 on TripAdvisor for vegan friendly restaurants in Warwick.
Be sure to head here for some amazing home-cooked vegan dishes.
If you don't fancy heading out for a meal with your mates, make the most of their online delivery.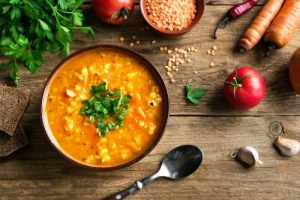 Address: 6 Castle St, Warwick CV34 4BP
2. The Art Kitchen
Somewhere you absolutely have to go for a meal whilst living in Warwick is The Art Kitchen. 
This vegan friendly restaurant is located on Swan Street in the heart of the town centre.
With a menu inspired by the best Thai restaurants in Bangkok, you'll find flavours here you won't find anywhere else.
The majority of their dishes can be adapted to suit both a vegan and vegetarian diet, so no matter what you're in the mood for, you'll be well looked after here.
Some notable dishes we'd recommend trying are the vegan drunken noodles, thai banana fritter and the silken tofu krachai.
If that wasn't enough to entice you, you can enjoy a meal with your friends in the modern art gallery space which provides the best vibes you could ask for.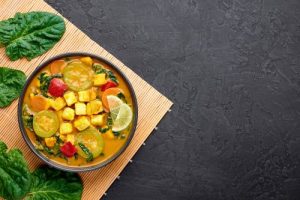 Address: 7 Swan St, Warwick CV34 4BJ
3. Jack's Shack
Whilst it's not specifically a restaurant, this independent cafe is the perfect spot to enjoy some hearty vegan food in Warwick.
Jack's Shack is an award winning coffee shop on Jury Street offering a range of different foods from sandwiches to bagels to soups to toasties to sweet treats and more.
We urge you to try out their spicy bean burger with vegan mayo, vegan cheese and lettuce and tomato – how nice does that sound?
If you're on the hunt for somewhere to head to for lunch after uni, give this place a go!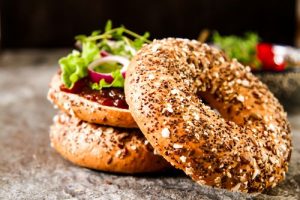 Address: 3c Jury St, Warwick CV34 4EH
4. Aqua Food & Mood Lebanese Restaurant
Another restaurant in Warwick which has a strong focus on vegan food is Aqua Food & Mood Lebanese Restaurant.
You can easily transport yourself to Lebanon with their menu of flavourful authentic cuisine.
This place prides themselves on providing a range of vegan dishes to feast upon with plates such as their vegan moussaka, khurda mashwi, manakeesh and tabbouleh.
We can guarantee you won't be disappointed when eating out at this place so, plan an evening out with your pals and try some unreal vegan scran!
You can even bring the feast home with you by ordering through Just Eat or Deliveroo if you're not feeling in the mood to cook.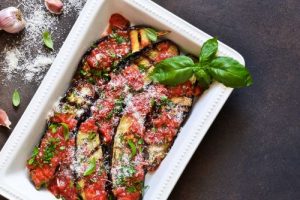 Address: 12-14 Jury St, Warwick CV34 4EW
5. Dough & Brew
If you're as passionate about homemade pizzas as we are then you'll love Dough & Brew. 
At this food hub, the emphasis is always on flavour with locally sourced ingredients that you can choose between to make the perfect vegan pizza.
Opt for the likes of vegan cheese with caramelised onions, mushrooms, olives and peppers, or decide yourself.
They even offer gluten free sourdough pizzas for an extra charge.
It's not just amazing pizza that's on the menu at this award winning restaurant, they also have house made pasta dishes and delicious sides on offer.
We urge you to give their cauli wings and sweet potato fries a go!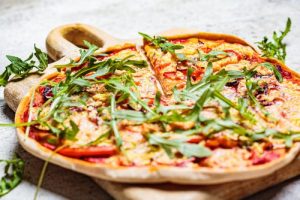 Address: 45 Brook St, Warwick CV34 4BL
6. The Aubergine Turkish Restaurant
The Aubergine Turkish Restaurant certainly knows their stuff when it comes to vegan food.
You'll find this place on Smith Street in the centre of town, with a unique charcoal grill and open kitchen where you can see your food being prepared in front of you.
The menu at this family run restaurant is something special, with plant based meals like their saksuka, biber ezmesi as well as the homemade falafel with salad bread and hummus.
If you're in the mood for authentic Turkish food whilst living in Warwick, we really cannot recommend this restaurant enough.
Address: 32 Smith St, Warwick CV34 4HS
7. Happy Puccia
On the hunt for a taste of Italy whilst living in Warwick? Make sure to take a visit to Happy Puccia.
This wholesome cafe specialises in puccia, an Italian bread made from pizza dough, so you can enjoy one of the best sandwiches Warwick has to offer.
It's not just vegans that will be impressed with the flavours here, even meat eaters will love their plant based puccia with tomatoes, walnuts, mushrooms, lettuce, vegan cheese and a vegan aubergine spread.
For something a little less filling, you can enjoy an oat milk biscoff latte paired with a vegan fruit cheesecake.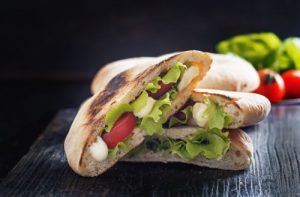 Address: 61 Smith St, Warwick CV34 4HU
8. New Bowling Green
The New Bowling Green is a traditional British pub in Warwick which caters for all tastes with a range of vegan, vegetarian and gluten free options to choose between.
This hidden gem is the absolute best place for a vegan roast dinner whilst studying in this town with the choice between a seitan roast and nut roast, you're spoilt for choice.
If you're not in the mood for a roast dinner, they also have homemade pies, a vegan burger , vegan arancini and vegan chilli.
Got room for the dessert? They offer vegan apple crumble and a vegan chocolate and nut brownie.
Give this place a go if you haven't already, you won't regret it.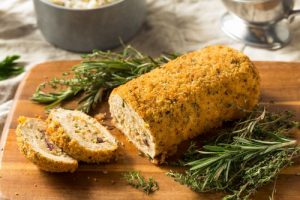 Address: 13 St Nicholas Church St, Warwick CV34 4JD
And so, that concludes our guide to Warwick vegan restaurants.
As you've discovered, there's so many delicious places offering plant based dishes on the doorstep of your student house – who else is hungry?!
Wondering what the best boozy hotspots are in Warwick? Take a read of our guide on The Best Pubs For Students In Warwick.