After a busy day at university there's nothing better than putting on your favourite TV shows for some much-needed downtime, right?
Curling up on the couch of your student house with your pyjamas on and your go-to snacks, all whilst spending time with your housemates, it really is unmatched. 
If you're looking to fill up your watching schedule, then you need to check out our hand-picked guide to the best TV shows to watch in 2023. 
There's a range of genres in this guide so no matter if you prefer something heartwarming, something funny, something that leaves you on the edge of your seat or so on, you'll find something to binge-watch here!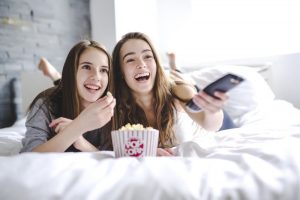 1. The Last Of Us 
A guide to the best TV shows of 2023 wouldn't be complete without mentioning The Last Of Us, after all, it's all anyone is talking about right now. 
The Last of Us is an American post-apocalyptic drama television series based on the 2013 video game of the same name. 
Starring Pedro Pascal as Joel and Bella Ramsey as Ellie, the show is set after a global pandemic destroys civilization.
Tasked with escorting a 14-year-old girl across America, a smuggler joins hands with a young apprentice to fulfil the mission unscathed.
Without giving too much away, this hit TV show builds a complex relationship between the two main characters and is a video game adaption worthy of watching. 
Watch the trailer below, or stream season 1 on Amazon Prime Video. 
2. A Town Called Malice 
A Town Called Malice is an upcoming British crime thriller TV show which you need to add to your must-watch list. 
A musical love letter to the 80s, the plot follows the Lords, a family of South London gangsters who ditch the UK to recapture their former glory on the Costa Del Sol.
The show is set to be filled with an 80s soundtrack, plenty of criminal activity, romance, obsession, deceit, and swagger.
You haven't got long to go until the eight-part drama series premiers on Sky Max on March 16th so, make sure to check out the trailer! 
3. Daisy Jones & The Six
Another new TV show for 2023 which is all the talk is Daisy Jones & The Six. 
If you haven't heard about this American musical drama, then get to know, the series is based on the best selling novel by Taylor Jenkins Reid. 
The plot of the show follows the rise of fictional rock band Daisy Jones and The Six through the '70s LA music scene on their quest for worldwide icon status.
It's loosely based on Fleetwood Mac singers Stevie Nicks and Lindsey Buckingham's turbulent history! 
Starring big names like Riley Keough, Sam Claflin, Suki Waterhouse and Camila Morrone, this series is a real crowd pleaser with superb acting, great storytelling and an original soundtrack which will leave you singing along. 
Stream season 1 of the TV show on Amazon Prime Video now. 
4. Dear Edward
Calling all drama TV series fans, Dear Edward is something to add to your 2023 catalogue. 
Exclusive to Apple TV+, the heartfelt story follows a 12-year-old boy who becomes the lone survivor of a plane crash which kills all of his family members.
As Edward and others affected by the tragedy try to navigate through their grief, unexpected friendships, romances, and communities are formed.
Trust us, you don't want to miss out on this emotional show starring the likes of Taylor Schilling, Connie Britton, Colin O'Brien and Audrey Corsa.
Watch the tear-jerking trailer for a introductory to the show…
5. Gotham Knights 
Gotham Knights is the upcoming American superhero television series coming to our screens in March 2023. 
The DC Comics show follows the characters originating in the world of Batman and is based in Gotham City after Bruce Wayne is assassinated and his adoptive son is framed for his killing. 
Turner must form a new crime-fighting team with the children of Batman's enemies when they are all accused of a murder they didn't commit by district attorney Harvey Dent. 
The kids work together to clear their names and find out who really killed Bruce Wayne. 
Episode 1 of the show is airing on March 14th with new episodes released every Tuesday after that.
Watch the trailer below to see what it's all about!
6. Dreamland 
Dreamland is an upcoming British comedy series based on Sky's 2018 BAFTA-winning short of the same name.
Starring Lily Allen in her TV debut as well as Doctor Who's Freema Agyeman, the plot is about secrets, lies, loves and aspirations within a family of four sisters.
Set in the sun-drenched British seaside town of Margate, the series is a dark comedic exploration of multi-generational female relationships, and their (somewhat dysfunctional) family dynamic. 
You'll have to wait a little longer to watch the new Sky Original comedy, with the show premiering in April 2023. 
Although, you can get the excitement flowing by giving the trailer a watch below! 
7. The Crossover 
If you're yet to find anything which strikes your interest on our list of best TV shows in 2023, how about The Crossover? 
This Disney+ series is an upcoming American coming-of-age sports drama based on the novel of the same name by Kwame Alexander.
It's about two twin brothers coming of age on and off the court, as they struggle with growing up, growing apart, and learning to put family first.
The Crossover is streaming on April 5th and is set to be a great watch so, plan a TV date with your housemates! 
8. Kaleidoscope
Kaleidoscope is a new crime heist drama which began streaming on Netflix earlier this year. 
When it comes to the TV shows in 2023, this show is hugely popular with a unique way of watching. 
The way it works is, the show is designed to be watched in any order, with each episode having a different colour so you can choose where you begin and end – talk about an immersive experience!
The plot follows the largest heist ever attempted across a time span of 24 years, and features a stellar cast of Giancarlo Esposito, Rufus Sewell and Paz Vega along with many more – this is not one to shy away from.
Discover what else happens by watching every episode of Kaleidoscope in whatever order you please on Netflix. 
It's only the beginning of the year and our list of the best tv shows is already huge, with so many more highly anticipated shows set to come to our screens in the near future. 
For now, get the popcorn out, have a relaxing night and watch some telly with our top recommendations. Which one are you most excited about?! 
Are you in the process of viewing houses at university? Take a read of our blog for tips and tricks.