Are you planning on a summer of fun hosting a house party? You may be slightly stressed out trying to plan everything but don't worry, we've got you covered with all the money-saving tips, things you need and fun tricks to use for your next get together. We're sure with this helpful guide you'll have an amazing time and be super organised too!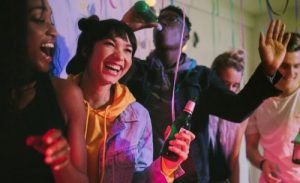 1. The Music Matters
Music is one of the biggest parts about having a party or a celebration, and TBH it wouldn't be much of a party without it. However, it can be difficult to decide what tunes should make the cut because you want to ensure everyone's having a good time and loving the soundtrack. This helpful tip will ensure all your guests are happily dancing and bringing in the party vibes. After all, Is there anything worse than people skipping through every song you've put on? 
Create a collaborative playlist on Spotify which allows your friends to add, remove, and reorder tracks. This means multiple people decide what music is going to play and when. You can create a Collaborative Spotify playlist by clicking or tapping an existing playlist's three dot icon.  
Each song that's added will say who added it too so you can get all your besties to add their favorite party anthems. With this helpful trick they'll be no more arguing in front of the speaker to change the song every 30 seconds. Pssst – just make sure you have a premium Spotify account so there's no ad breaks #awkward!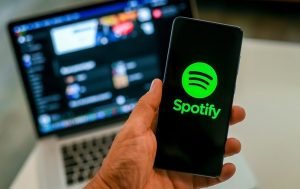 2. Get Cocktail Recipes from TikTok
A fabulous way to spice up your next party is to have a themed cocktail night. This popular trend from TikTok involves everyone in your group creating their own signature cocktail and bringing it with them. Some creators have created cocktails to match their job role or their favorite film. You can choose for it to be a challenge where you vote for the best cocktail winner or just do try each other's drinks for some fun – we LOVE IT!  
So, this is your sign to do a themed cocktail night with your pals. The best part is, as people are bringing their own bevvs it means the person hosting will cut down on costs. Who doesn't love a nice yummy cocktail? You can even do the challenge mocktail style if you don't drink alcohol.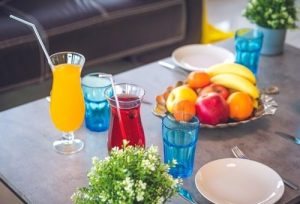 3. Have A Garden Party
At your next get together why not make it a festival-themed garden party? It's a super fun idea popular on TikTok and means that you'll keep all the mess outside rather than indoors. You can make the kitchen a drinks station and of course people are going to have to go indoors to go the toilet, but if the weathers cracking the flags then it will be lovely. 
You don't have to go all out to make the most of this idea either, there's tons of cheap party supplies on Amazon that can get your garden looking like Glastonbury. Just make sure you check the weather forecast a few days before as the UK weather can be unpredictable!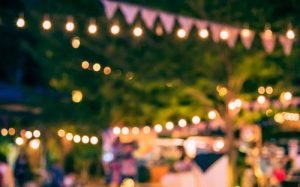 4. Tips To Save Money
One thing about having a party that we HATE is having to spend money on all the supplies, it's on par with having to tidy up at the end of the night or the next morning. Sometimes it can be so expensive to get supplies and it almost ruins your mood. However, we have some helpful money saving tips to make the most of for hosting a gaff.  
Getting food and drinks – How annoying is it when you buy food and drinks for a party and half of it doesn't get used? Well, our tip for this is to buy your bits from a cheap supermarket like Aldi or even make a trip to Costco to get your party supplies. There's no point in forking out loads for a party, you can do it on a budget! Keep it simple and just get some crisps, dip, pizzas and picky bits.

 

Ask your guests to bring things – If you're hosting a get together with your mates you can ask them to bring along somethings to help. Chances are, they'll be more than happy too! Whether it's asking them to grab some bottles of mixer or asking them to bring some food over.

 

Save money on decorations – A party wouldn't be much of a party without the decor now would it? But, you don't need to spend loads on banners, buntings or balloons. Go to Pound land or B&M to get your themed party looking spot on, and your bank account will too.

 

Share the costs with others using Splitwise – If you're hosting a party in your student home then ensure that everyone who lives with you has chipped fairly to the party supplies. It's unfair if one person has bought everything. We suggest downloading the S

plitwise app, it's a great way to share expenses with friends or family. You can add how much people owe you and keep track of any balances, without having to chase anyone up for the Just eat order you made at the end of the night.

 

Limit the alcohol – We're not saying that every party has to involve alcohol, but if you are a drinker, then you'll know that it can be quite pricey buying bottles and bottles for a party. Just make a cocktail bowl using a few bits you already have and tell people to BYOB (bring your own booze).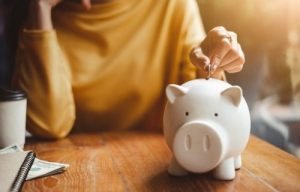 5. Things You Need
Okay, so onto the essentials you need for the next time you throw a party and with summer being in full swing, we're sure it'll be soon. It can be hard to think of all the things you need when you're hosting a social event. It's stressful trying to plan a party, that's why we suggest making a checklist on your notes folder on your phone and crossing things off when you've sorted them!  
Here is our party checklist:
Cleaning supplies – You can use products you already have or head to the shops and get some cheap stuff for cleaning before and after the party.

 

Ice ice baby – Don't forget to get sort out ice, no one wants a warm drink! Forget about buying packets of ice, you can use re-useable ice trays and the kitchen tap.

 

Kitchen roll – This is a godsend, don't forget to have some stocked up so you can easily clean up any spillages.

 

Bin bags – Another essential, you don't want to realise the next day when you're hungover you've just used up the last bin bag and the house is a mess!

 

Garnishes – Grab some lemon and limes for garnishing drinks.

 

Plastic Cups – These are obviously great for reducing washing up, but you can also use them for playing beer pong!

 

Cellotape – If you're hosting a special occasion like a birthday, then you absolutely can't forget cello tape for sticking up banners or balloons.

 

Entertainment – Now, we're not talking about hiring an entertainer. We just mean ensuring that there's some options if standing around talking gets a bit boring after a while. Plan some party games, you can even download Picolo which is a hilarious party game app!

 

Food and drink – We don't actually have to remind you to sort this out for a party, do we? But seriously, you don't need to spend loads of money and time sorting these things out just keep it simple.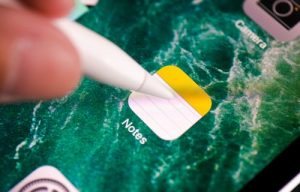 Sadly, you've reached the end of our blog on All the Money-Saving Tips and Fun Tricks for Your Next House Party. We hope you have an amazing time at your next house party and don't forget to throw an in invite our way. Seriously though, we do hope we've helped you come up with things you need for your next party and helped you cut down on costs.  
For you to read next: Student House Moving Out Day: The Stress-Free Exit. 
If you're still looking for your next student house, explore our properties in prime locations across the UK.