Bradford is home to many fun things to do from the National Science and Media Museum to Cartwright Hall to Bradford Cathedral to the Impressions Gallery, and the best part is, they don't cost a penny. 
Which means you can enjoy some days out with your friends when you're not in uni without sacrificing your student budget. Now springtime is here, there's no better time to head outdoors from your student home and discover all of the fun free things to do in Bradford. 
Looking for inspiration? You need to take a read of our top picks within this blog post.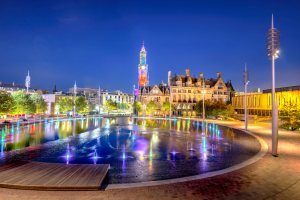 1. National Science and Media Museum
Considering Bradford is the UNESCO City of Film, there's no place better to visit than the National Science and Media Museum. 
Here you can learn more about the history of Bradford and media from around the world, with 6 floors of interesting galleries and exhibitions which focus on media, photography, sound technologies and so much more. 
Whilst entry is free, you do need to book an admission ticket before visiting the museum's galleries, exhibitions or café. If you enjoyed your visit, don't forget to donate if you're able to! 
The museum is open from 10am until 5pm so make sure to check it out. 
View this post on Instagram
Address: Pictureville, Bradford BD1 1NQ
2. Bradford Industrial Museum 
If you're searching for fun things to do for free, Bradford Industrial Museum brings the history and heritage of this West Yorkshire city to life and is a must-visit. 
Established in 1974 in Moorside Mills, the museum features permanent displays of textile machinery, steam power, engineering, printing machinery and motor vehicles. 
There's also an ever changing events programme with varying exhibitions and workshops you can explore, free of charge. 
To find out what's on currently you can head to the official website or just take a visit for yourself! 
View this post on Instagram
Address: 235 Moorside Rd, Eccleshill, Bradford BD2 3HP
3. Cartwright Hall Art Gallery 
Based within the grounds of Lister Park, Cartwright Hall Art Gallery opened in 1904 and houses impressive contemporary exhibitions, including four permanent galleries showcasing 19th and 20th century British art collections. 
Spanning across two floors with a range of work spanning from centuries ago to the modern day, this place is an absolute gem and doesn't cost a penny to visit. 
After you're done you can take a walk through the grounds or if you're feeling peck-ish, there's a cafe where you can treat yourself to something tasty or a nice cuppa, why not eh? 
View this post on Instagram
Address: Lister Park, Bradford BD9 4NS
4. Lister Park 
If you're visiting the Cartwright Hall Art Gallery or just fancy a space to escape from the hustle and bustle, Lister Park is well worth a visit.
Lister Park dates back to 1870 and is one of Bradford's 6 Green Flag parks, with so much to explore from the Mughal Gardens to the picturesque boating lake to the Victorian bandstand and tons more. 
No matter what time of the day you fancy taking a visit, this stunning green space will not disappoint, and there are plenty of Insta-worthy shots. 
If you're not wanting to put a hole in your pocket but you still want to stay busy on the weekend, you can take a trip around the park with your friends and pack a picnic! 
View this post on Instagram
Address: Bradford BD9 4NS
5. Bradford Cathedral 
Bradford Cathedral is the city's most ancient place of worship dating back to the 7th century. 
Set within a beautiful garden space, the cathedral is open to everyone to visit no matter if you want to attend a service, an event, explore an art exhibition or even if you're wanting to discover the history and heritage within the walls.
The building is stunning both inside and outside, and is free entry so if you're wanting to learn more about the 500 years worth of history, be sure to plan your visit. 
View this post on Instagram
Address: 1 Stott Hill, Bradford BD1 4EH
6. Impressions Gallery 
It's hard to believe how many fun free things to do in Bradford there are, with another top place to visit being the Impressions Gallery. 
The Impressions Gallery is located within the heart of the city next to City Park, and is one of the UK's leading and independent venues for photography. 
Having moved to Bradford from York in 2007, here you can take a look around the amazing contemporary British photography as well as explore world-class exhibitions, talks, events and head to the specialist bookshop. 
50,000 people visit the gallery every year so, go and be one of them and understand the world through photography! 
View this post on Instagram
Address: Aldermanbury, Bradford BD1 1SD
7. Bradford City Hall 
If you're looking for a fun activity to do with your friends then why not take a visit around Bradford City Hall?
This Grade I listed building dates back to the 19th century and is located inside Centenary Square. 
This gothic style building is not only the headquarters of Bradford's city council but also a great attraction to experience whilst studying in the city. 
Inside you can take a stroll around the banqueting hall, council chamber, Lord Mayor's rooms and Victorian Court Room. 
The beautiful spaces within the city hall have even been used as a backdrop for many films and TV shows like Peaky Blinders, Coronation Street, Emmerdale and Official Secrets to name just a few!
The only thing is, the hall is not always open to the public but there are certain days where you can take a visit.
View this post on Instagram
Address: Norfolk Gardens, Bradford
8. Bradford City Park 
Bradford is a fantastic place to be a student with so many places to discover, and one in particular which stands out for us is the City Park. 
This iconic six-acre park located within the city centre is the largest-man made water feature within the UK, and is a great place to catch up with friends and marvel at the sights. 
Animated by fountains, lights and mist displays, the mirror pool changes throughout the day and is open from 10am until 8pm.
Although, we do recommend visiting a night to see it at its best – make sure to snap an Insta story! 
Considering its convenient location, you can make an evening out of it by heading to one of the city's many bars or restaurants.
View this post on Instagram
Address: Peel Centre, Bradford BD1 1SD
9. Boiling Hall 
Whilst living in Bradford you are spoilt for choice with the abundance of free activities, and another place we urge you to visit is Boiling Hall. 
This historic hall is one of the oldest buildings in Bradford which is now a museum, housing a variety of interesting rooms where you can get a taste for different periods of the houses' history. 
You can wander around the hall at your own pace, but be warned it is said to be haunted with around 20 ghosts stalking the grounds so it's not for the faint hearted! 
If you're wanting to purchase some memorabilia, there is a shop at the end you can check out. 
View this post on Instagram
Address: 15 Bowling Hall Rd, Bradford BD4 7RY
10. South Square Centre
Rounding off our guide on the best fun things to do in Bradford is the South Square Centre.
This vibrant community venue is home to artist studio spaces, a gallery, community spaces, archive, fine art framers, as well as a bar and vegetarian cafe.
The cobbled courtyard area is great for relaxing and catching some rays with a drink in hand!
The centre even hosts a programme of events, workshops and activities so if you enjoy learning about arts, culture and heritage take a trip here. 
Despite being a little further afield from the city centre, it's just a 15-minute bus ride away! 
View this post on Instagram
Address: South Square, Thornton, Bradford BD13 3LD
And there we have it, there really are SO many amazing options if you're wanting to make plans with your friends whilst studying in Bradford.
Who said going out has to break the bank? We sure don't think so! 
Read next: Things They Don't Tell You About Shared Student Houses.