Summer is approaching fast guys and girlies, which can only mean one thing, it's BBQ season.
Gathering with your friends, enjoying some alfresco food and drink, and soaking up the sunrays, you really can't beat it if you ask us! 
If you're looking to level up your summer BBQ this year and try some new dishes, it's tasty central over here with our huge list of recipes.
From crowd pleaser mains to all-important sides to mouth watering fruit and veggies, you'll have everything you need for an amazing cookout in your student house.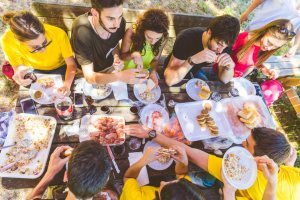 1. Piri-piri Pork Ribs 
Coming up at number 1 in our guide of summer BBQ recipes is Piri-piri pork ribs. 
Are you dreaming of pull-apart ribs made with smoky piri-piri spices and a sticky barbecue sauce? We sure are.
Ribs are an absolute staple of any outdoor cookout, but this recipe by BBC Good Food does take a while to cook, as you need to let the meat marinate. 
It's worth it if you have the time though, they taste amazing!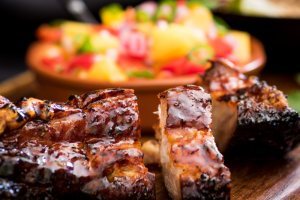 2. Salt & Pepper Tofu Skewers 
When it comes to the tastiest summer recipes for your next BBQ, you need to try salt and pepper tofu skewers. 
If you're looking for an easy and delicious vegetarian dish which will blow your guests away, this recipe is a must. After all, who doesn't love tofu?! 
For a full ingredients list and method, head to the Jamie Oliver website.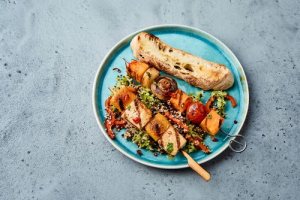 3. Maple-glazed Hot Wings 
Calling all chicken wing lovers, these Maple-glazed hot wings are an absolute game changer for your next BBQ. 
No matter if you're hosting friends over or after a dish to bring with you, this chicken wing recipe by BBC Good Food is a perfect succulent side for those who love spicy food. 
They're easy to make and cook pretty quickly, be sure to try them out for yourself for your next summer gathering!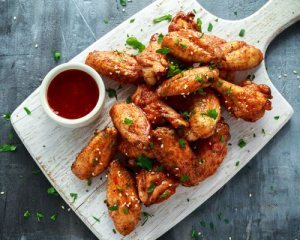 4. Smoked Mac 'N' Cheese 
If you're searching for the perfect accompaniment for your summer barbecue, this Smoked Mac 'N' Cheese is the definition of comfort food. 
You might be thinking pasta cooked on a barbeque? But trust us, this dish is creamy, rich, full of flavour and easy to make. 
After whipping up your ingredients, it takes around 1 hour to smoke this Mac 'N' Cheese. 
Once it's done you'll have a crispy and smoky panko topping – we're dreaming of this!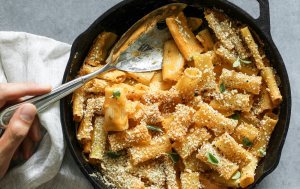 5. Smoked Chipotle Grilled Sweet Potato
Sometimes simple recipes are the best, and what could be better than this Smoked Chipotle Grilled Sweet Potato dish? 
These sweet potatoes are soft, fluffy, sweet and the perfect amount of smoky, making them perfect to feed a crowd this summer! 
Served with plenty of fresh lime and coriander, this plant-based recipe is a must-try if you're after something different for your next BBQ.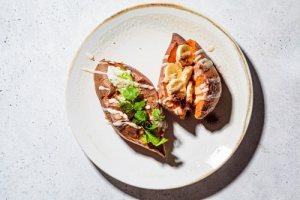 6. Big Mac Hot Dogs 
What would a barbie be without hot dogs? Absolutely none-existent, they're a cookout classic!  
This creative recipe takes the usual hot dog up a notch, with a Big Mac twist, featuring special sauce, shredded lettuce, pickles, onions and cheese. 
When it comes to BBQ food, it's always fun to make something new you haven't tried before, and this way, you'll have your own McDonalds at home.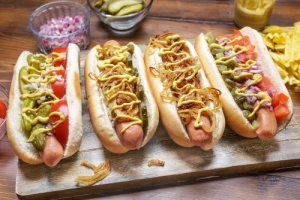 7. Barbeque Beef Burger 
There's nothing that feels more summery than a freshly grilled burger, they're easy to make and just delicious.
The classic BBQ beef burger will never go out of fashion so of course we had to include one on our list. 
This recipe by BBC Good Food is full of flavour and is sure to melt in your mouth, plus it's ready in no time at all! 
If you're wanting to make your burger next level, add in some blue cheese and caramelised onions on top – mmm, chefs kiss!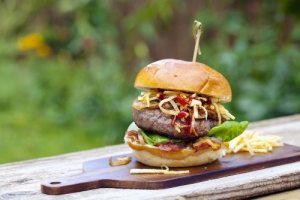 8. Greek Salad Hummus Board 
Of course you need a nice crunchy salad to pair with your BBQ dishes, right? 
This Greek salad hummus board is a match made in heaven and is simple to make. 
To whip up this summer salad, combine red onions, bell pepper, tomatoes, cucumber, feta, chopped parsley and mint. You can swap the veggies if you'd prefer something else! 
Once you've tried this healthy recipe, you won't want salad served any other way!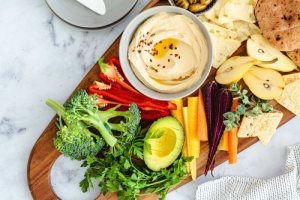 9. Chilli Halloumi Skewers 
Have you got that bbq food craving? So have we, and this next recipe is not something you'll want to go without for summer 2023. 
For a mouth-watering charred taste, these Chilli Halloumi Skewers marinated with honey, lime and chilli are sure to tantalise those taste buds. 
This non-meat option is easy and simple to make on your home BBQ, so give it a go and see if it's as tasty as it sounds!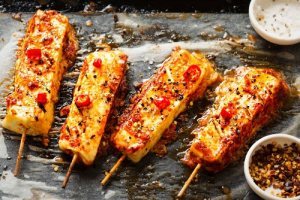 10. Grilled Bruschetta 
Grilling season is upon us, and if you're looking for a plate that is going to wow the taste-buds of your guests, this next recipe is a definite. 
Bruschetta is already a go-to appetiser, but once you add in some fresh tomatoes, olives and cheese, you'll have a gourmet dish right at home! 
Simply pour over some olive oil onto your French bread, then grill until both sides are golden brown. 
Add this dish to your cookout menu and you'll leave everyone feeling happy!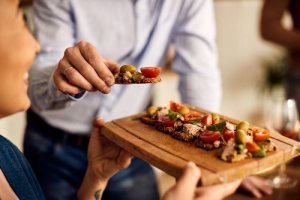 11. Southern Style Coleslaw 
Coleslaw is something you either love or you hate, but regardless, we think it deserves a spot on our list of summer BBQ recipes. 
You may be able to buy it from the shop already made, but it's one of the easiest side dishes to whip up and making it at home is ten times better!
This veggie dish has a creamy and tangy flavour with a crunch, and always goes down well at an outdoor gathering. 
Chances are, you'll already have a lot of the ingredients to make this southern style coleslaw at home which is a winner.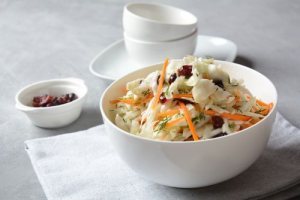 A plate full of food fresh off the grill, a refreshing drink in one hand, and your favourite people around you, there's nothing more blissful if you ask us. 
With BBQ season on the way, you won't want to go without these summer recipes – get the grill fired up! 
Read next: Things They Don't Tell You About Shared Student Houses.