Everyone knows a student loves a good takeaway, because there really is nothing better than a Netflix binge with a feast of food!
Whether it's a cheeky chow mein or some dumplings, you really can't go wrong with a Chinese takeaway when chilling out in your student accommodation in Cambridge.
Since it's coming up to Chinese New Year (Friday 12th February) it'd be rude not to tuck into some delicious Chinese food, right?
That's why we've done our research to come up with the 8 best Chinese takeaways rated by fellow students!
1. Four Seasons Takeaway
Rating- 10/10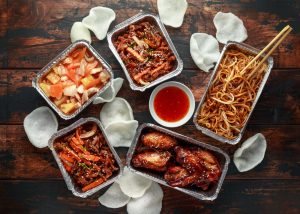 Bagging the top spot for Chinese takeaways in Cambridge is the Four Seasons Takeaway on Milton Road (right next to some of our fabulous Milton Road accommodation!)
Even if you don't live near this scrumptious Chinese, you can order your meal online for delivery and stay in your PJ's – what a bonus.
The best part is, you really don't have to wait long at all for your order, with super-fast delivery and great service to match!
If we had to recommend a dish, the salt & pepper chicken and the duck and shrimp noodles are favourites amongst visitors.
Four Seasons deffo aren't short on flavour, offering up loads of fabulously fresh dishes to satisfy that rumbling tummy!
2. Café Oriental & Dumpling Bar
Rating – 9/10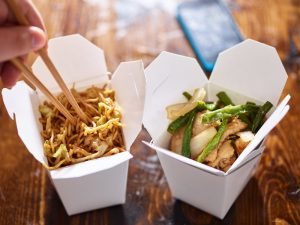 This ones another banger of a Chinese takeaway in Cambridge, perfect to cure those hangover blues!
The Café Oriental & Dumpling Bar is located once again in The Grafton and are well known for their delicious dumplings, or in their words…"little pockets of heaven!"
You can make your order on Deliveroo and have it delivered to you student accommodation in 10-20 minutes, perfect for a cosy evening in with Netflix.
Why not tuck into some crispy wontons (12 per portion) with a choice of king prawn coriander, pork, pork & vegetable to name a few!
3. Kymmoy
Rating – 7/10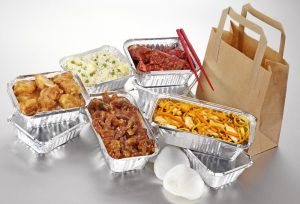 Taking third place on the yummy scale for best Chinese takeaways in Cambridge is Kymmoy, located in The Grafton on Burleigh Street, Cambridge, CB1 1DG.
Available on Uber Eats, students can choose from a range of scrumptious starters, wok-fried noodles, aromatic duck dishes and many more – wowzers!
Not only does this place offer great value, but really good food too, perfect for students who can't be bothered to cook.
For main meals, we'd deffo recommend the shredded crispy beef with carrots, chillies and a tangy sauce for a bit of a kick!
If you're a seafood lover, the Kymmoy special noodles consisting of wok-fried egg noodles, king prawns, squid, scallops, mussels, beef, pork, chicken and oriental vegetables are a popular choice.
4. Peking Restaurant
Rating – 7/10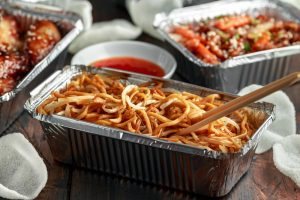 Described by The Sunday Telegraph as "the best restaurant in Cambridge" is Peking Restaurant on Homerton Street, serving up a yummy range of Oriental dishes!
Available on Deliveroo, choose from scrumptious steamed dumplings, soups, chicken & duck and many more.
The best part about Peking Restaurant? Their food has an amazing home-cooked vibe to it, making the meals extra tasty.
Although this particular takeaway is a little pricier, it's so worth it with the absolutely huge portions!
Recommendations include the cumin lamb, the Hainan prawns and the aubergine in hot bean sauce *drools*.
5. Golden Wok
Rating – 6/10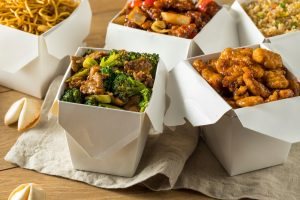 If you're looking for a cheeky combination of Chinese or Malaysian food, Golden Work on Histon Road is the place to be!
Order for dinner on their website, or treat yourself to a lunch meal deal for £5.90 – what a bargain.
The meal deal includes one main dish with either boiled rice, fried rice or noodles for a yummy lunchtime treat.
There's a minimum order of £10 and lunch lasts until 2pm, ideal if you've woken up late after a lie-in!
We'd recommend the hot and spicy chicken wings if you fancy a kick,  or the beef with black bean sauce for a classic dish.
6. Double Seven
Rating-6/10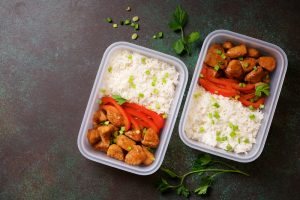 Double Seven gets a 6/10 from students for its decent takeaways on Cherry Hinton Road, perfect for students who don't fancy cooking!
Why not treat yourself to an absolute feast on a Friday night, you can even grab 10% off when you spend £20.
Delivery starts from 17:30pm, it's a £4 delivery fee and the minimum order is £15 – which won't be difficult when you and all your pals have taken your pick!
If you're in the mood for a curry, a firm favourite is the house special curry with a bit of spice, or for some zest, the deep-fried chicken in lemon sauce is proper mouth-watering.
Double Seven also have a set menu, perfect if you feel like treating yourself! They have meals for one, two, three and four people as well as a veggie option too.
7. Golden House
Rating – 6/10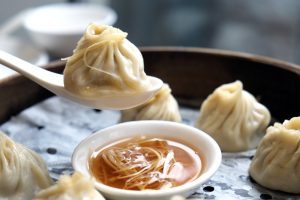 With a fab student special menu, Golden House is another great Chinese Takeaway in Cambridge for students on Lensfield Road.
You're looking at about £5 per main dish with a vast array of different meals to satisfy your tastebuds!
The honey spare ribs and the satay chicken on skewers are popular amongst students, and for a cheeky side, treat yourself to some sesame prawn toast with chilli sauce.
Order on Deliveroo and you can have your takeaway at your student accommodation within 25/45 minutes, sorted!
There are set meals on offer for up to four people with plenty of scrumptious starters to kick off your Cambridge feast.
8. Maido House
Rating- 6/10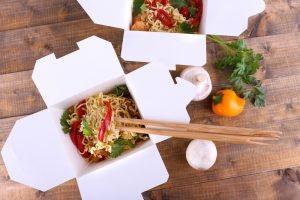 Head over to Deliveroo for your Maido House fix on Cherry Hinton Road, an awesome family-run takeaway that's very popular in Cambridge!
Making tasty dishes since 1975, Maido House has a selection of homemade authentic Chinese cuisine that's perfect for a cheeky Friday night in.
On your own for the night? Why not try the set meal for one person which includes egg fried rice, chicken curry and sweet and sour chicken balls – mega!
They open at 5ish pretty much every day of the week and don't close until 10:30-11pm, giving you bags of time to get your order in.
So, there you have it! Our best top 8 Chinese takeaways in Cambridge rated by students which are never too far away from your accommodation. Treat yourself this Chinese New Year, or just treat yourself because why the hell not! There's nothing better than a yummy feast of good food to kick off your evening.