Pancake Day 2021 is on Tuesday 16th February – which is getting closer and closer! That's why we've picked some quick and easy pancake recipes for you to try.
As a student, you may be wondering, what pancakes can I actually make without messing up the shared kitchen?
Well…fear not! We've got 8 yummy recipes you'll be able to make in your cosy student accommodation with your pals.
Whether you've got a super sweet tooth and want to indulge in choccy pancakes or prefer something low calorie – we've got you covered.
1. Chocolate Pancakes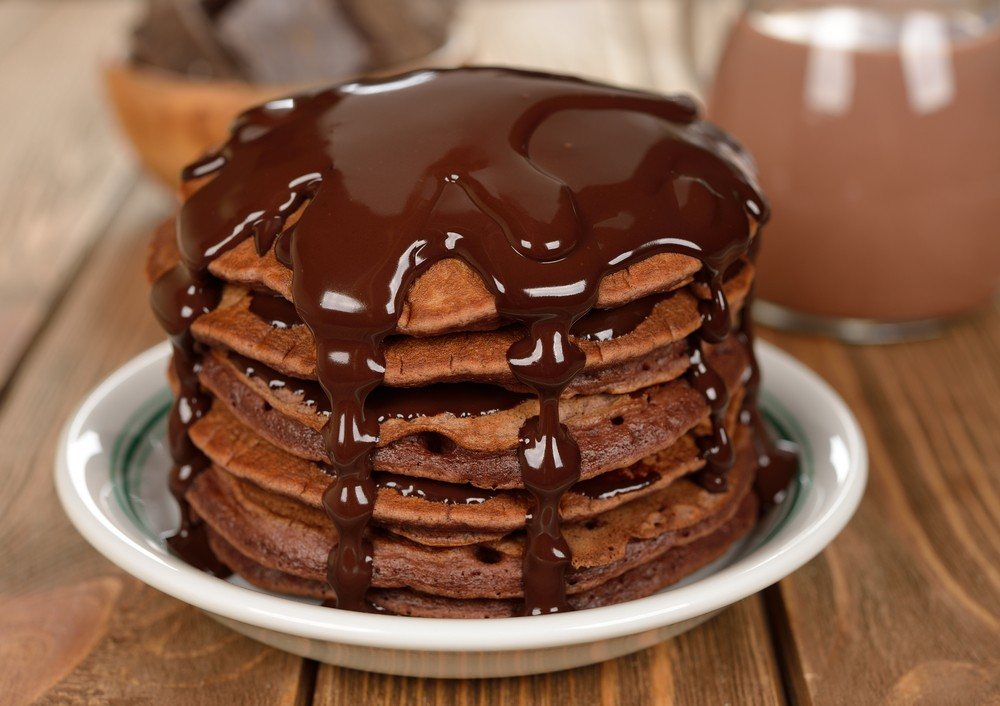 There's nothing better than a bit of choccy right? So, why not add some to your pancakes? This is one of our favourite quick and easy pancake recipes!
You'll be seriously drooling when making this recipe with all your mates, so let's take a look at what you'll need:
Ingredients:
185g of flour
25g cocoa powder
¼ tsp of salt
2 tsp of baking powder
2 eggs
65g granulated sugar
240ml of whole milk
3 tbsp of vegetable oil (or 45g melted butter)
1 tsp vanilla extract
85g chocolate chips/chunks
Butter or oil – for cooking
140g of semisweet chocolate
120ml heavy cream
Method:
To begin, get yourself a big bowl and sift the flour, cocoa powder, baking powder, salt and set aside!
In a separate bowl, whisk together egg and sugar until it's well combined and add your milk, oil (or melted butter), and vanilla extract – yummy.
Next, you need to mix your wet ingredients with your dry ones but try not to over mix and stir in your chocolate chips/chunks.
Now it's time for the chocolate sauce, arguably the best part! Combine your chocolate and heavy cream and microwave until its silky smooth.
Finally, heat a pan on medium heat, coat with butter or oil, and for each pancake drop about ¼ of the batter for each pancake!
Cook for a couple of minutes until the surface of the pancake has some bubbles, get flipping, and cook for another few minutes.
FYI – you might want to keep the pancakes warm whilst you're finishing cooking the others, so just grab some foil 😊
And voilà! Drizzle your choccy sauce over the top and get ready to indulge in some serious yumminess.
2. Gluten- Free Pancakes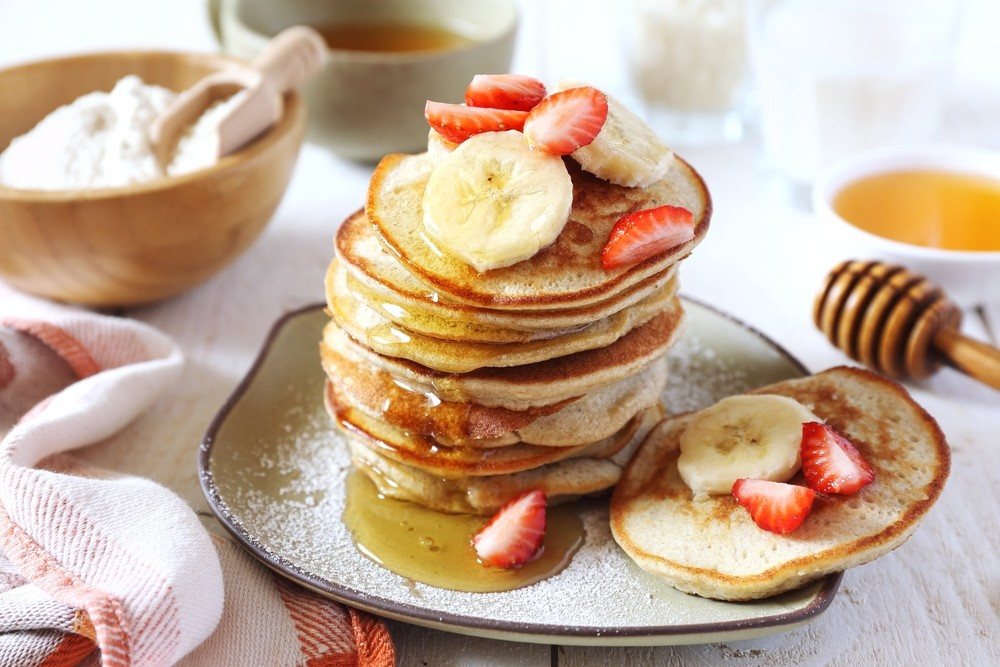 This BBC Good Food Recipe is super simple, the only change you really need to make is gluten-free flour!
Ingredients:
125g gluten-free flour
1 egg
250ml milk
Butter (for frying)
Method:
To make these delicious gluten-free pancakes you firstly need to put your flour into a bowl and make a well in the centre.
Crack your egg into a mixture along with a ¼ of the milk and whisk with an electric whisk (or balloon whisk if you're feeling super strong!)
Once your mix is a lump-free paste, mix in the remaining milk and make sure you leave it to rest for 20-minutes or so.
Stir again, heat a non-stick frying pan with some butter and pour a small amount of mixture into the  pan (ideally you need a thin layer.)
Wait until your pancake is golden brown, get flipping and replace the process on the other side!
Add a topping of your choice for extra flavour and get nomming.
3. Vegan Pancakes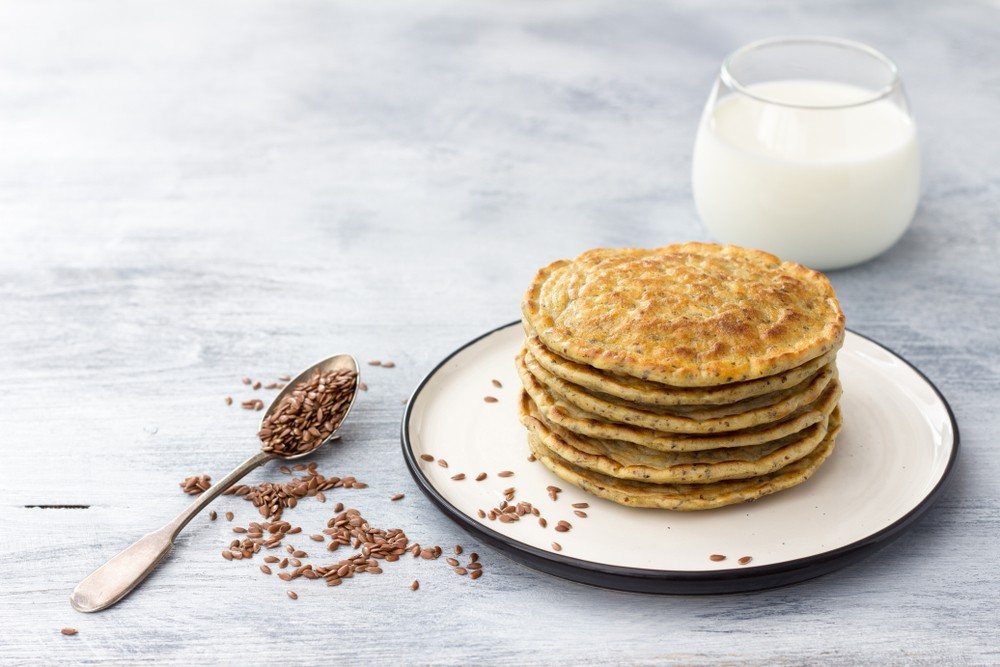 Calling all vegans! This fab quick and easy pancake recipe is bound to impress your mates, using your fave plant-based milk.
 Ingredients:
1 tsp baking powder
300g self-raising flour
1 tbsp sugar
1 tbsp vanilla extract
400ml plant-based milk
1 tbsp vegetable oil
Method:
To begin with, you need to whisk flour, baking powder, vanilla extract, sugar, and a tiny bit of salt using a balloon whisk until it's mixed nicely.
Next, slowly pour in the milk so you get a nice smooth and thick batter and heat some oil in a pan on medium heat.
Add a couple of tablespoons of the batter to make some small, round pancakes and flip once you start to see the bubbles appear!
Top it off with your fave topping – we'd recommend syrup and banana, lush.
4. Homemade Butter Pancakes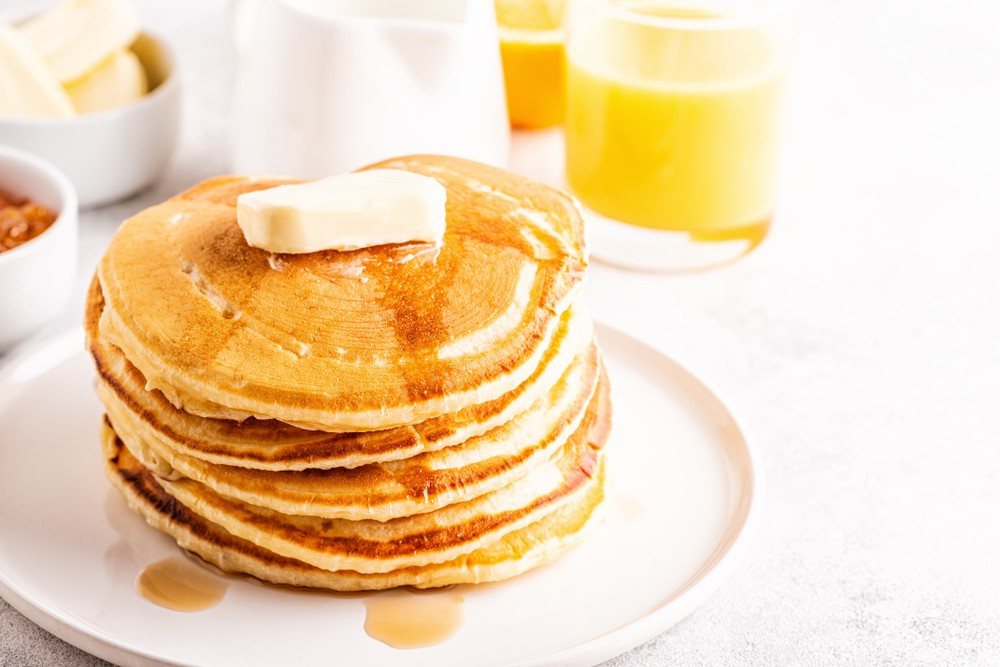 If you're in the mood for just a classic pancake but you're a bit of a butter fiend, keep reading, because this quick and easy pancake recipe is perfect for you.
You'll need all the standard ingredients for a pancake as previously mentioned – here's a reminder:
Ingredients:
1 cup of flour
2 teaspoons baking powder
½ teaspoon salt
1 cup of milk
1 egg
2 tablespoons of unsalted butter
Extra butter
Method:
To begin with, mix flour, baking powder, sugar and salt together (basically all your dry ingredients!)
You'll need to grab a separate bowl now to mix the egg, milk and butter together and then combine both the bowls together.
Grease your pan with butter and pour about ¼ of the mix into your pan and flip once the bubbles have formed!
For extra indulgence, why not melt some chocolate and slice some strawberries for the topping? Why not…treat yourself 😉
5. Super Quick Pancakes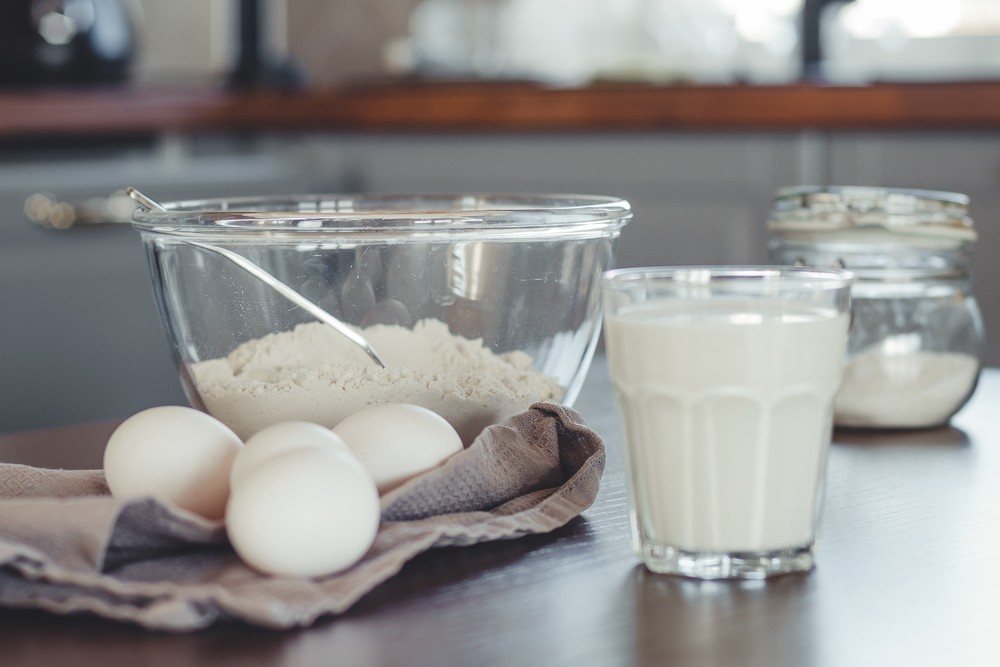 Depending on how lazy you're feeling, you can actually purchase ready-made pancake batter from your local supermarket if you fancy it!
There's a handy one you can buy in Asda, or you could just opt for the classic ingredients which are:
Ingredients:
Flour
Sugar
Baking powder
Salt
Milk
Eggs
Oil
Method:
As previously mentioned, all you need to do is mix the dry ingredients, make a well in the centre and pour in your wet ingredients!
Mix it all together until it's smooth, pop it in a hot pan that's lightly oiled and pour about ¼ of the mix in the pan.
This quick recipe is so easy and will take you about 10/15 minutes tops – perfect for a busy student!
6. Low-Calorie Pancakes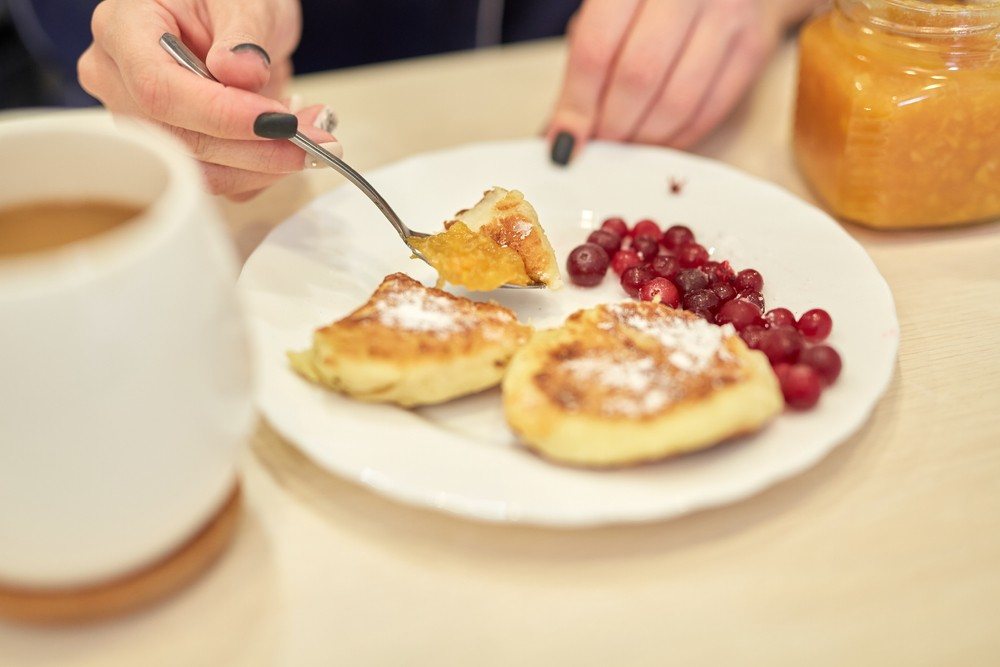 If you're after  quick and easy low-calorie pancake recipes that are a healthy but yummy option, you've come to the right place.
Ingredients:
50g self-raising flour
50g wholemeal or wholegrain flour
2 small eggs (separated)
150ml skimmed milk
Berries and low-fat yoghurt/fromage frais
Method:
Firstly, you need to sift the flours into a bowl, add the egg yolks and a splash of milk until it turns into a nice thick paste.
Secondly, add the last bit of milk a little at a time so the batter doesn't get lumpy.
Whisk your egg whites and fold them into the batter, at this point, you need to make sure you don't squash out all the air!
Now onto the fun part, heat a non-stick pan over medium heat and pour in your batter to make the pancake.
Once the surfaces have bubbles, you'll need to flip the pancake (which is the most fun part!)
Serve your pancakes with some fromage frais/low-fat yoghurt and some fresh berries for extra flavour.
7. The Ultimate Pancake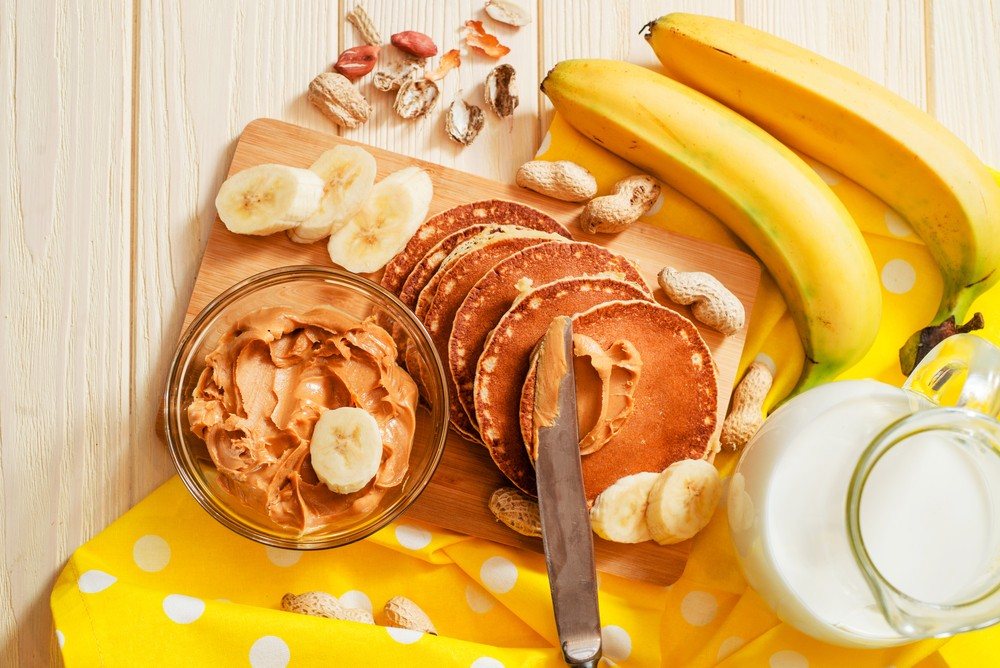 So, in our opinion, this pancake really is the ultimate pancake, because it's filled with tasty ingredients!
This sweet pancake includes choc chips, smooth peanut butter, icing sugar and banana – what more could you want?
Ingredients:
Smooth peanut butter
2 tbsp icing sugar
2 tbsp milk
50g chocolate chip
½ banana – sliced
Method:
Follow the classic method (as mentioned in number 5 for super quick pancakes) to make your pancake batter!
Mix your peanut butter with the icing sugar, milk and chocolate chips and spread the mix over your pancakes.
Pop the banana on top and sprinkle a few peanuts on top for some added crunch.
8. American Blueberry Pancakes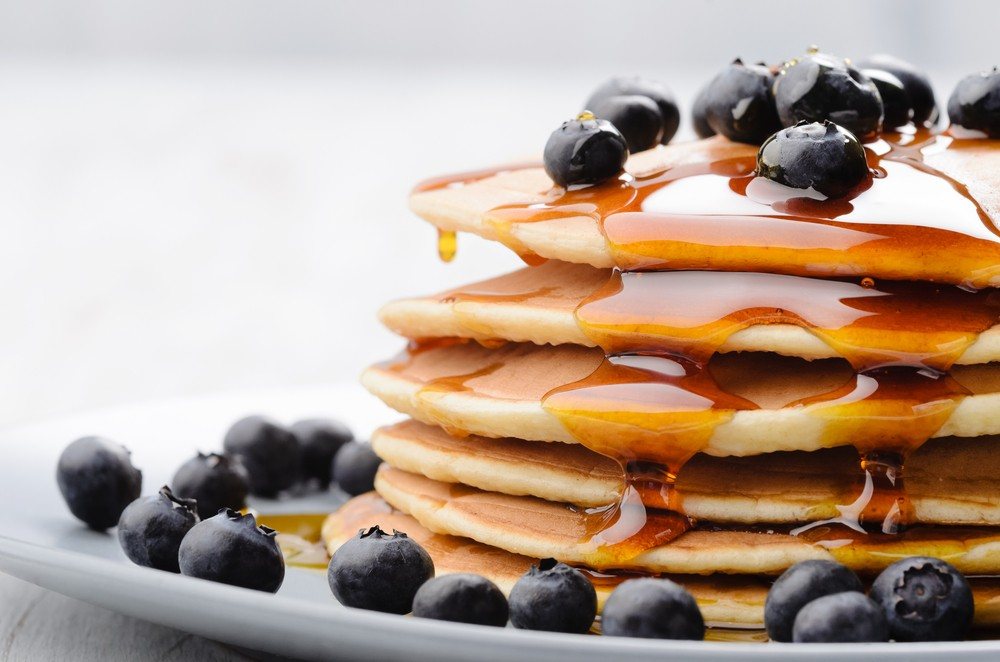 There are so many quick and easy pancake recipes out there for American blueberry pancakes, a super popular type of pancake for pancake day 2021!
Check out this one below:
Ingredients:
200g self-raising flour
1 tsp baking powder
1 egg
300ml milk
150g pack of blueberries
Oil or butter
Golden/maple syrup
Knob of butter
Method:
To make these yummy pancakes, all you need to do is mix the flour, baking powder and a pinch of salt in a large bowl.
Beat the egg with some milk, make a well in the centre of the dry ingredients and whisk until it's a smooth batter.
Grab your melted butter and gently stir in half of the blueberries!
Next, you'll need to heat some oil or a large knob of butter in a pan, drop a tablespoon of the batter in the pan and make your pancakes.
Cook the pancakes for about three minutes and once you start to see bubbles, get flipping until each side is golden!
Serve with golden syrup and the rest of the blueberries and enjoy.